I am primarily a Canon system user I have a 5D and a 40D and also an S70 compact with a range of lenses a Tamron 11-18 and the rest Canon gear a 60mm EFs Macro, EF24-105L, EF17-40L and a EF70-200L an L of a lot of lenses (for me anyway), as you can imagine (or maybe not) carting this lot or part of it takes a fair amount of effort especially when you include the extras like a tripod filters flash etc.
At times you want to travel light for example when I am cycling and on those occasions I would take my ageing S70 with which I was getting increasingly frustrated by because as time moved on contemporary compacts are available such as the S95 which are capable of producing much better image quality than I can get on the S70 which has a similar sized sensor, so I started looking around at what was available but held back as I did want to try to get results somewhere inline with the quality of my DSLR's that I have gotten used to, While I was in mid search a canon EOS-M compact system camera was offered up by a member of the forum at a price that couldn't be ignored so I snapped it up.
Why did I go for the EOS-M because it did everything the compacts I had looked at would do plus it had the same size crop sensor as a DSLR, it is the same sensor as the 650D but without the mirror box in a compact body and is actually a generation or more leap from my 40D so no issues with compromised image quality, the other gain was that all the accessories I have lenses flashes etc will fit onto the EOS-M.
Well that's the background to getting the camera so how have I found it, well overall pretty pleased with most aspects of it but with some drawbacks which makes the camera for me a great alternative to a compact camera but not a complete replacement for a DSLR, it lacks certain features the main one being for me a viewfinder while this is normal in todays compacts the new CSC Compact System Cameras currently available elsewhere do have EVF (Electronic View Finder) viewfinders this key thing plus the crippling of the cameras connection to the EOS utility meaning that tethered shooting is not an available option as that function appears to have been disabled although Capture One http://www.phaseone.com/en/Supported…x?camera=Canon appear to have enabled it through their tethering software, the lack of viewfinder inability to tether and that the camera comes in 4 different colours indicates that it is aimed mainly at the consumer market.
I have found the camera fun too use easy to pack and carry and capable of producing some cracking quality images as good as any other camera I have used, the kit lens and the 22mm prime are lovely bits of gear metal bodied and very nicely engineered far superior to the kit lenses on the DSLR's the camera also has a metal body and a 3″ touch screen similar to a mobile phone and very responsive, the camera is used in liveview all the time and does eat batteries compared to a DSLR where liveview would be used more sparingly, with the large screen making adjustment to the camera settings is simple and quick and current setting easily seen, there are some buttons and other controls on the right hand of the camera rear where you can make the same adjustments as touching the screen and there are some features I will probably never use with me sticking with Av M and Tv.
Focus and metering are very simple to do you have a variety of metering modes and AF focus now improved on the firmware upgrade to ver2 works very well I find the focus most times OK even in low light in single AF (my preferred mode) a small white box is on the rear screen and by touching on the screen where I want to focus the box moves to the position my finger is on and focuses with the box line changing colour to green when focus is locked, when I have pixel peaked in lightroom I have found that I have no more OOF shots than I have when using a DSLR, it was a learning curve to use the camera away from my face when shooting handheld but I am used to using liveview when tripod mounted with my 40D but the EOS-M is better as its generations in front, I have found that manual focus is challenging hand held when using magnification but very simple on a tripod as the framing stays the same.
Reviewing images on the rear screen is easy and is done the same as any touch screen and is very responsive.
I have a selection of bags I seem to remember saying I don't do bag shopping I may have exaggerated, I have one old cine camera bag I use for all the kit comes in at 2.5kg fully loaded, I have a black padded bag I use when carrying the camera and kit lens in my rucksack (750g) and I have just treated the camera to a small case for when I want to travel light and use the 22mm Prime (575g)
Activ8 who I got the camera from has a review thread here http://www.photography-forum.org/sho…in-the-madness!
The Canon site for all the specifications including a video of a guy WITH NO SOCKS ON http://www.canon.co.uk/For_Home/Prod…-specification
Good points
Image quality its a 650D without the mirror box
compact size and metal body
Able to use all EOS lenses and flashguns
Bad points
Lacks a viewfinder
You cannot disable input on the touchscreen when on
Battery life its greedy on batteries
Here are some images
This is the BIG bag with camera, kit lens, 22mm prime, 3 spare batteries, flash, EF adaptor, filters, remote release, card reader, Miranda tripod and a QR plate.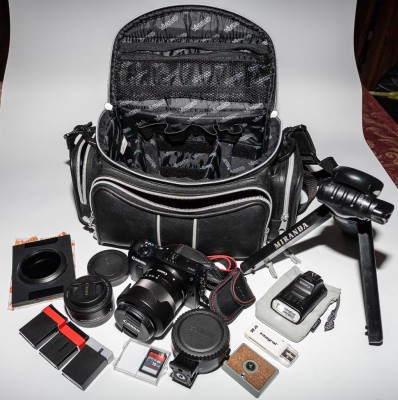 And the bag all packed away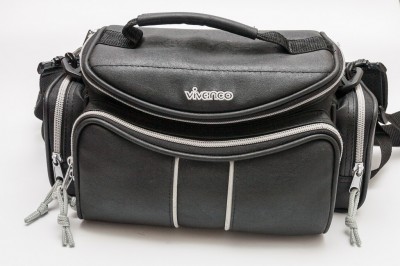 My inside my rucksack bag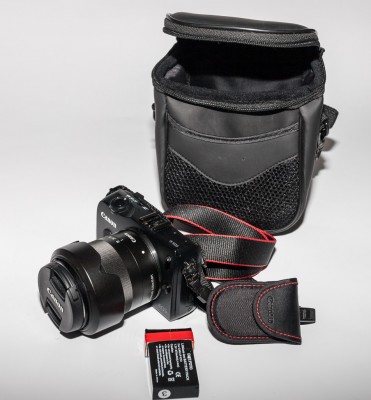 And finally the travelling light case.