Been on ebay and saw a Bronica ETRS body cheap average condition but fully working so went and bought it some of the leather is coming of I am going to have a go at tarting it up if it works OK a bit of a project… I have all the other bits for it as I have an ETR-C (fixed film back)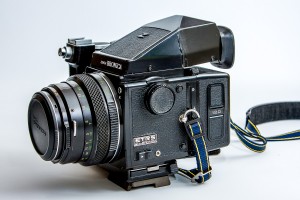 Well at the same time I bought the ETRS body I also bought a couple of 120 filmbacks from different sellers, and they came in a few days unfortunately one of the filmbacks had a roller missing from the spring that goes onto the film roll so informed the seller and very kindly he sent me a complete 220 film back said to use the spring from that and keep the rest for spares………very nice man.
On the other hand the camera body still hadn't arrived and I emailed the seller through ebay and had no reply excepting that they then marked the item as sent anyway sent another email last night and never got a reply but the body arrived today 1st class recorded……….why they feel unable to email reply to say its on its way is beyond me, anyway apart from some leather needing replacing it all works fine as does the the 28mm ext tube I bought , going to shoot a test roll through and fingers crossed It may be all OK.
Now I have an ETR-C and ETRS whats next ………I think a bigger bag..or trolley.
I have both working just need to get them nice as well the paint on the ETRS body that came looks clean and unchipped just need the leather sorting and should be OK……….need to make them look nice and keep them ……………for a while anyway.
A few images one of the camera built on the ETRS body and some shots taken with B&W XP2 ISO400 and Ektar colour ISO100 nice that they both process C41. Lens 75mm with 28mm ext tube.